White Jade Gua Sha
Regular price

Sale price

S$30.00
Indulge in the pure, serene beauty of our White Jade Gua Sha. Crafted with grace and care, this exquisite tool harnesses the power of ancient wellness traditions to bring you a deeply relaxing and rejuvenating experience. Let the gentle curves and cool touch of the White Jade soothe and restore your skin, revealing a natural, radiant glow.
With every stroke, feel your tension melt away, and let the graceful energy of this precious stone flow through you. Discover the ultimate in self-care and indulge in the transformative power of our White Jade Gua Sha for a natural lift to your skin.
What is it good for?

The White Jade Gua Sha is highly beneficial for enhancing the health and appearance of your skin. It is specifically designed to promote facial lifting and sculpting, offering a natural, non-invasive alternative to traditional methods. It helps to reduce the appearance of wrinkles and fine lines, improves blood circulation, and aids in lymphatic drainage. Additionally, it assists in relieving facial tensions and promoting a more radiant and youthful complexion.
Why it works?

The effectiveness of the White Jade Gua Sha lies in its thoughtful design and the properties of the White Jade stone. The gentle curves allow for smooth gliding motions, ensuring a comfortable and effective treatment. The cool touch of the White Jade promotes a soothing and calming effect on the skin. As the tool is gently massaged along the contours of the face, it helps to stimulate blood flow, encouraging oxygen and nutrient delivery to the skin. The gentle pressure applied during the gua sha technique aids in relaxing facial muscles, reducing puffiness, and promoting lymphatic drainage, resulting in improved appearance of skin tone, texture and overall radiance.
Commitments

Natural
Vegan & Cruelty-Free
Plant a tree with every order
No Synthetic Chemicals
No Artificial Colour
No Artificial Fragrance
Recycling

White Jade Gua Sha is normally not recyclable but can be reused, repurposed, or donated to minimise waste.

Shipping

Enjoy free delivery on orders within Singapore. For international orders, enjoy free shipping on orders over S$200. For orders below S$200, a flat shipping fee of S$40 will apply and any applicable customs duties or taxes are not included.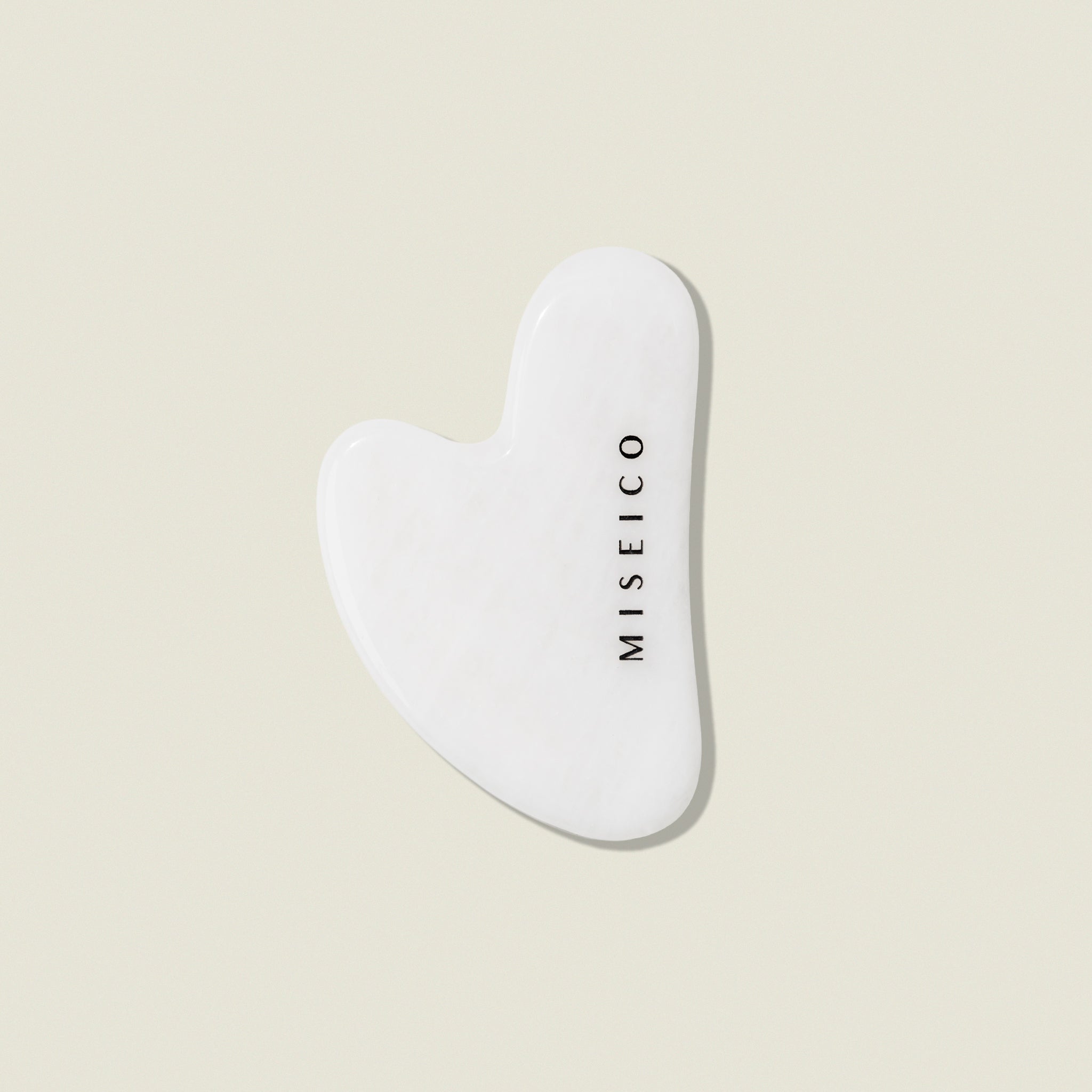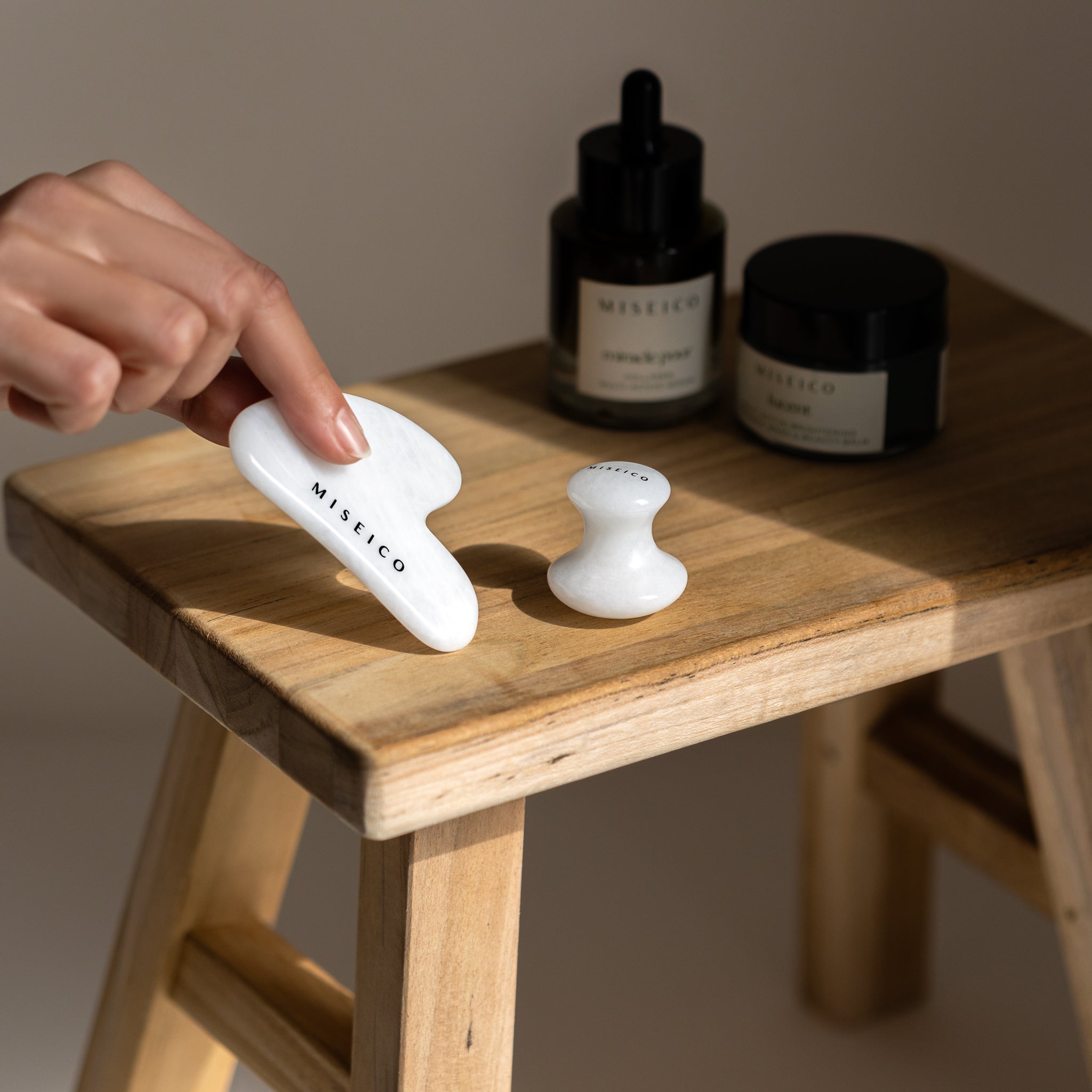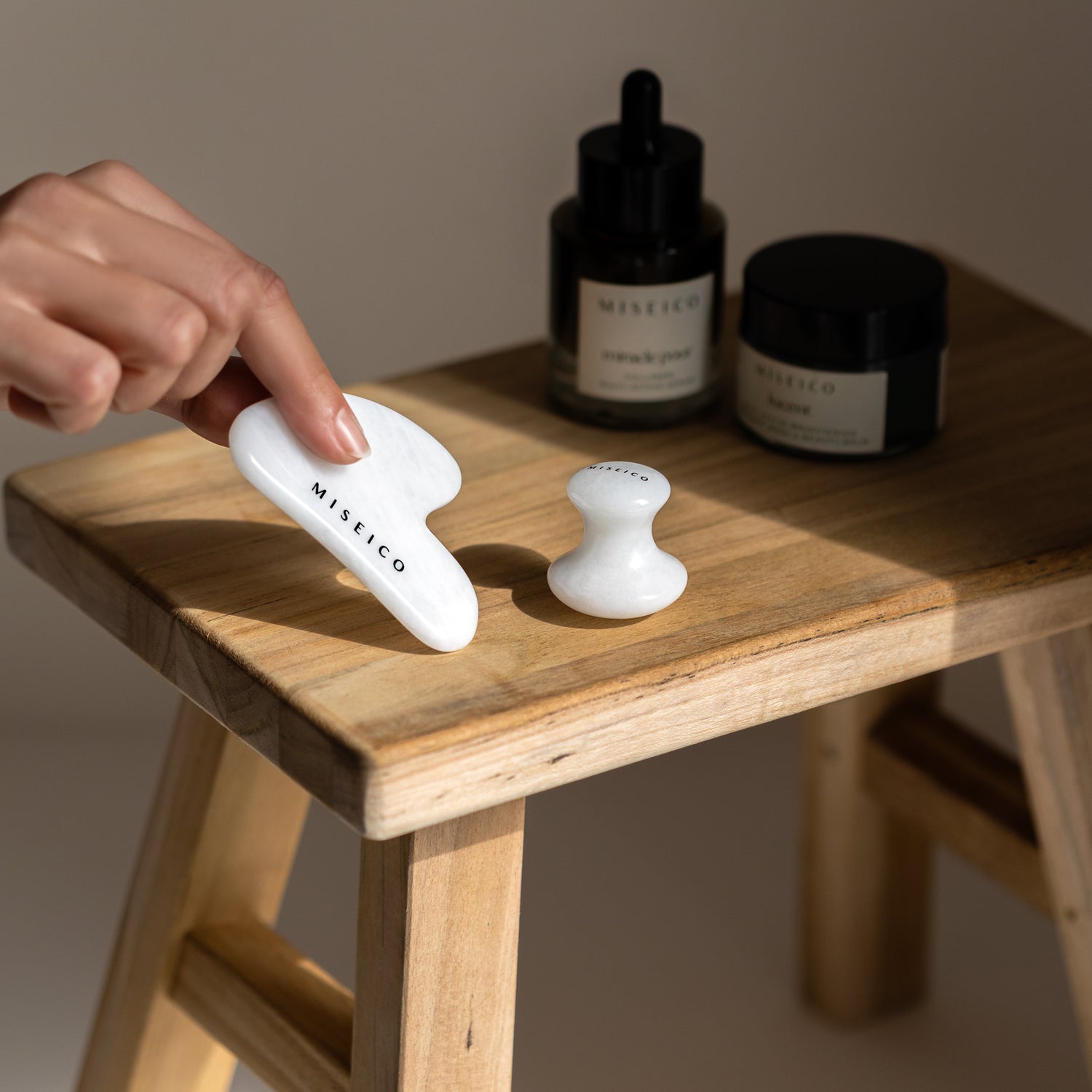 FAQs
We're here to help you navigate your way to your best skin yet. Here are some of our most Frequently Asked Questions about White Jade Gua Sha, but feel free to email us at hello@miseico.com.
How do I include the White Jade Gua Sha in my beauty routine?

Incorporating White Jade Gua Sha into your self-care routine offers a unique blend of skincare and wellness benefits. After cleansing, apply a few drops of MIRACLE POUR Collagen Serum and gently glide the tool in upward and outward motions across your face, focusing on key areas. Repeat strokes 3-5 times, savouring the experience. Cleanse and continue your skincare routine. Using White Jade Gua Sha 2-3 times per week promotes healthy skin, circulation, lymphatic drainage, and provides a natural face lift and sculpted appearance. Enhance your skincare and wellness journey with White Jade Gua Sha and the nourishing MIRACLE POUR Collagen Serum.

How often should I use the White Jade Gua Sha?

It is recommended to use White Jade Gua Sha 2-3 times per week or daily as desired. Adjust the frequency based on your skin's tolerance and individual needs.
How should I clean and care for my White Jade Gua Sha?

Clean your Gua Sha tool with mild soap and water after each use. Dry thoroughly and store it in a cool, dry place. Avoid dropping or exposing it to extreme temperatures.
Can I use White Jade Gua Sha on sensitive skin?

White Jade Gua Sha is generally safe for all skin types, including sensitive skin. However, exercise caution and start with gentle strokes to ensure it suits your skin sensitivity. Discontinue use if any irritation occurs.
Is White Jade Gua Sha suitable for pregnant women?

It is advised to consult with your healthcare professional before using any beauty tool during pregnancy to ensure it aligns with individual circumstances.

Is the product sustainable?

By choosing our product, you are investing in your skin's health and a more sustainable future. We use sustainable packaging and we are committed to minimizing our environmental impact.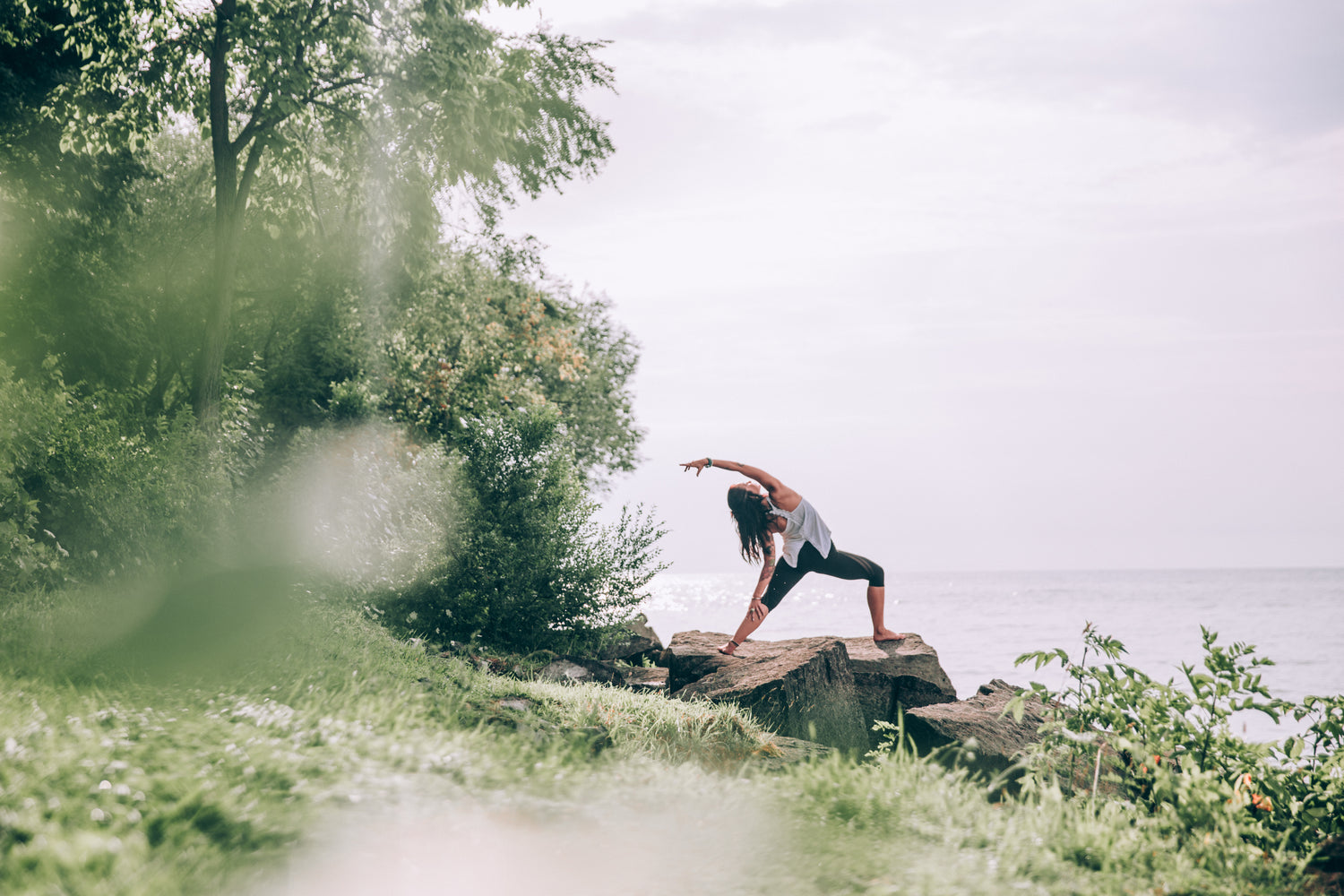 Why Miseico?
MISEICO embraces and navigates life stages by harnesses the healing power of nature backed by science to create intentional moments of self-care for the mind, body and planet. 
Join Our Community